The knowledge that the use of face masks delays the SARS-CoV-2 transmission is rapidly gaining popularity in the general population. Politicians need guidance on how masks should be used by the public to fight the COVID-19 pandemic crisis. In this review, we summarize the relevant literature on this topic.
"The surgical face mask has become a symbol of our times."
On March 17th, 2020, this was the headline of an article in the New York Times on the role of face masks during the COVID-19 outbreak. Face masks have become a clothing accessory that is worn every day and everywhere. A variety of shapes, forms, and materials are being used and advertised to the point that in 2020 the business of producing and selling face masks was born.
In Germany, the government has ruled that wearing a face mask is obligatory to protect the population from any risks of airborne illness, according to the constitutional law stating that "Protection must be easily provided to every citizen in the country."
The aim of this paper is to analyze and critically discuss the regulations of some Federal States in Germany, which require protective masks in public to conform to similar regulations already in place in other countries.
Most masks covering the mouth are named mouth nose covering (MNC) according to the Robert Koch Institute (RKI; the German federal government agency and research institute responsible for disease control and prevention) and do not protect against respiratory and airborne infections. In the following review, the term "protective masks" will be used to describe any type of face mask.
Face masks protecting from infections
Respiratory masks (RM) are protective devices covering a part of the face. They are designed to protect both the person who wears them and the immediate environment from breathable pollutants (respiratory poisons or bacterial/viral pathogenic organisms). Different masks can be classified as I) full masks (normed following EN 136) and II) half and quarter masks (EN 140). While a full mask covers the whole face, a half-mask fits from under the chin to above the nose, a quarter mask fits from the top of the nose to the top of the chin. The breathing resistance varies proportionally to the density of the mask material.
FFP (filtering-face-piece) Mask Without Valve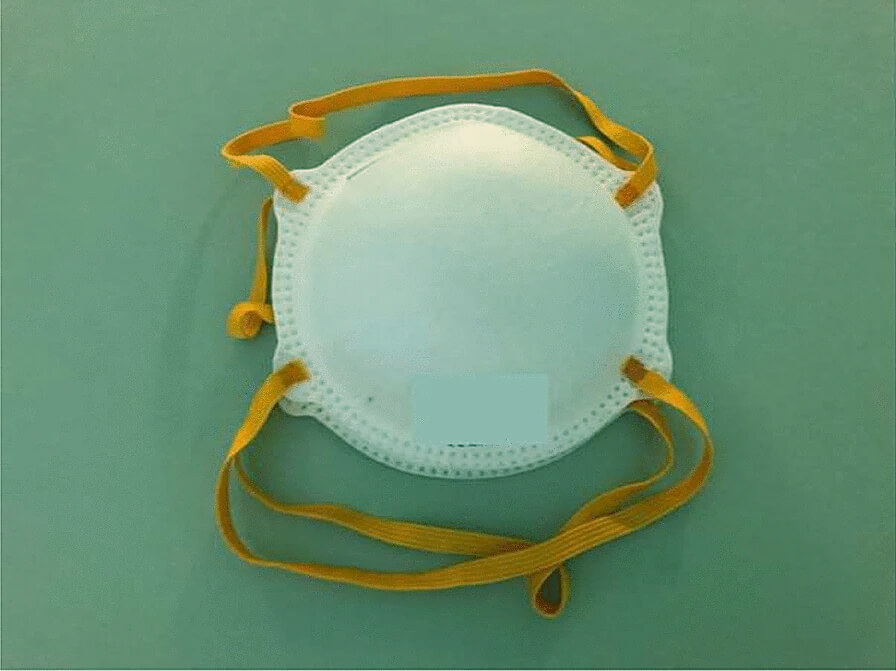 FFP (filtering-face-piece) Mask With Valve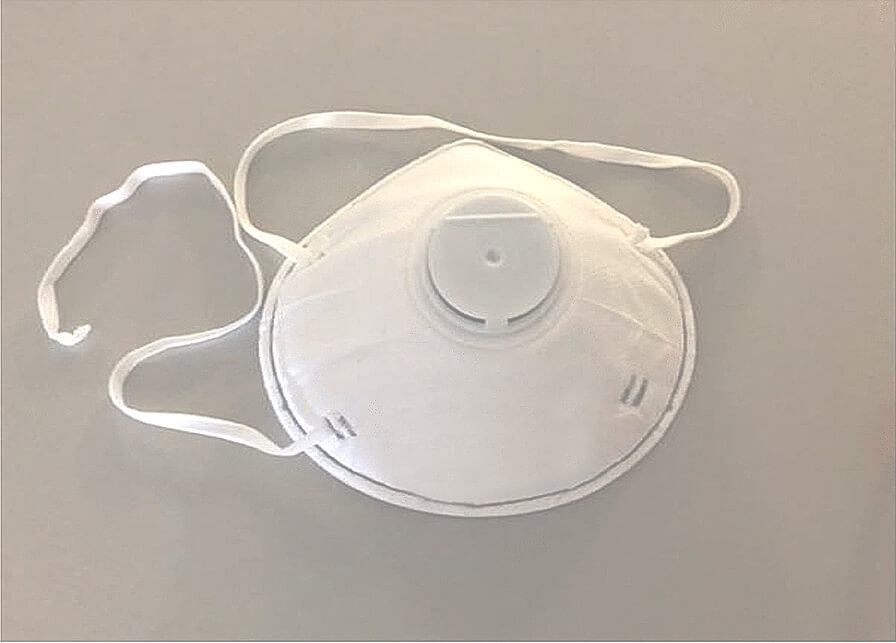 Homemade face mask for everyday use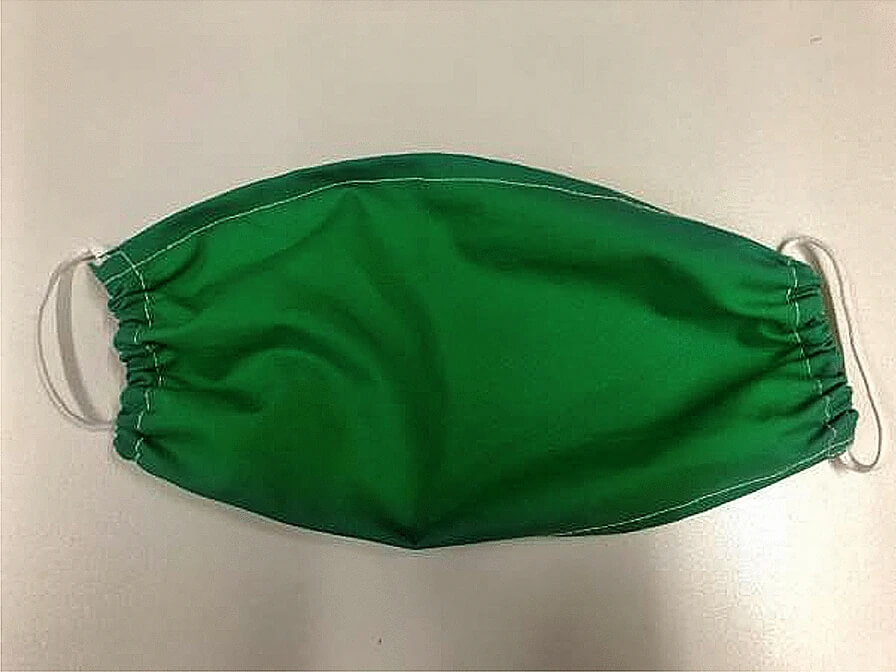 FFP masks (filtering face piece) are classified as half masks. Their use is required to prevent the entry of pathogens through the airway and have the role of protecting both the wearer and the surrounding people. They are different from medical MNC, (often referred to as "surgical masks"), and from "self-made" masks for everyday use. MNCs and self-made masks are not "leak-proof" and do not provide complete respiratory protection since air can escape through them. FFP masks come without (Fig. 1) or with (Fig. 2) a valve. FFP (filtering facepiece) masks with valves provide an airflow from the inside to the outside of the mask. FFP 1 masks are dust masks and mainly used for this purpose. They do not prevent COVID-19 infections. FFP1 masks are suitable for work environments in which only non-toxic dusts are found. FFP2 masks are suitable for work environments where there are pathogens and mutagens in the air composition.
In the context of SARS-CoV-2 the following types of masks are available (WHO, 2020):
Masks for everyday use (temporary masks made from fabric, etc.; Fig. 3): These masks grant no protection for the user from being infected. However, it is safe to assume there is a small risk reduction for droplet transmission, especially during exhalation, resulting in a reduction of potential viral spread. These masks should not be used in the health care system, but are commonly recommended for the general population for walking, shopping, or using public transportation.
MNP (= medical mouth–nose protection; Fig. 4): often referred to as a "surgical mask". The industrial production of MNP abides to strict rules to provide protections against infection. The filtering capability is like the one for everyday use masks and they are intended to protect patients. They are approved for medical staff use, warrantying only patient-protection, specifically aimed against aerosols.
FFP2-mask (= face filtering piece)/N95-mask: FFP2-masks fulfil a set of stricter protective norms. They protect the person wearing them, as > 95% of particles and droplets are held back when inhaling. FFP2-masks also effectively protect the environment as long as there is no exhaling valve. In contrast, masks with an exhaling valve let exhaled air pass out unfiltered, with contamination of the immediate environment.
FFP3-mask: FFP3-masks protect the user even more effectively than FFP2, as > 99% of droplets and particles are filtered when inhaling. FFP3-masks also protect the environment in the absence of an exhaling valve.
What materials work best for a homemade mask?
The CDC suggests using two layers of tightly woven 100 percent cotton fabric — such as quilter's material or bedsheets with a high thread count — folded in multiple layers.
Thicker, high-grade cotton masks are usually better at filtering small particles. However, stay away from materials that are too thick, such as vacuum cleaner bags.
In general, a bit of breathing resistance is expected when wearing a mask. Materials that don't let any air through can make it hard to breathe. This can place pressure on your heart and lungs.
Built-in filters can boost the effectiveness of DIY face masks. Coffee filters, paper towels, and just about any other filter can help boost protection.
When is it important to wear a mask?
The CDC recommends wearing cloth face masks in public settings where compliance with physical distancing measures may be difficult to achieve and maintain. This is key in areas where community-based transmission is high.
This includes, but is not limited to, settings such as:
grocery stores
pharmacies
hospitals and other healthcare settings
job sites, especially if physical distancing measures aren't feasible
Does everyone need to wear a mask?
Surgical masks and respirators are in high demand and supplies are limited. Therefore, they should be reserved for frontline healthcare workers and first responders.
However, the CDC recommends that just about everyone wear a cloth face mask.
People who can't remove the mask on their own or have breathing issues shouldn't wear masks. Neither should children under the age of 2 due to the risk of suffocation.
If you aren't sure if a face mask is safe for you to wear, be sure to talk to your doctor. They can advise you on what type of face covering may be best for you if you need to be out in public.
Use proper hand hygiene each time you put on, remove, or touch the surface of your face mask.
Put on and take off the mask by holding it by the ear loops or ties, not by touching the front of the mask.
Make sure the face mask fits snugly and the straps fit securely over your ears or behind your head.
Avoid touching the mask while it's on your face.
Sanitize your mask properly.
Run your cloth mask through the washer and dryer after each use. Wash it with laundry detergent. You can also place the face mask in a paper bag and store it in a warm, dry place for 2 or more days before wearing it again.
If you must reuse your respirator or surgical mask, isolate it in a breathable container such as a paper bag for at least 7 days. This helps ensure the virus is inactive and no longer infectious.
In addition to physical distancing and using proper hand hygiene, many health experts consider the use of face masks to be a key measure in helping to prevent the spread of COVID-19.

Although homemade cloth masks aren't as effective at filtering out small particles as respirators or surgical masks, they offer more protection than not wearing any face mask at all.

The effectiveness of homemade face masks can be enhanced with proper construction, wear, and maintenance.

As people return to work, continued use of appropriate face masks might help mitigate an increase in virus transmission.
Buy Best Face Mask for Men, Women & Kids